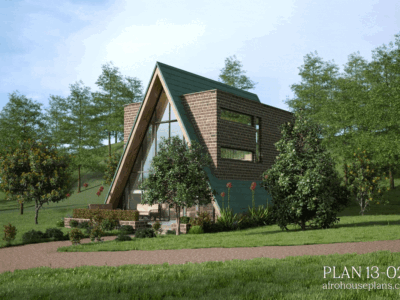 If you're looking for a simple home plan, check out this collection of one-bedroom house plans. One-bedroom homes can utilize small plot sizes efficiently, to give you a compact and affordable house design. Although these are small house plans and may seem like they are lacking space at first glance, our top house plan designers have come up with ways to maximize the use of the available area and give you complete value for money.
Our One-bedroom house plans come in a variety of sizes and specifications. Single room house designs are available with these types of floor plans: bungalow house plans, modern house plans, traditional house plans, apartment floor plans, single-story house plans. These one-bedroom house designs are great for single individuals who want a space of their own, or newly-married couples wanting to build a house design that is of low cost. Such single bedroom floor designs are also great as a simple home for elderly people who would prefer to live on the ground floor.
These small house plans can be made to look bigger and roomier with designs that have an appealing front elevation. Along with a front porch or veranda, this would make your one-bedroom house plan stand out even in its simplicity. One-bedroom home plans provide you with comfortable and accessible living.
Browse through our collection of one-bedroom house plans and pick the best floor plan for your requirements.
PREMIUM ACCOUNT
View floor plans & areas
View cost to build
1 year access
$49 Discount Coupon for any plan