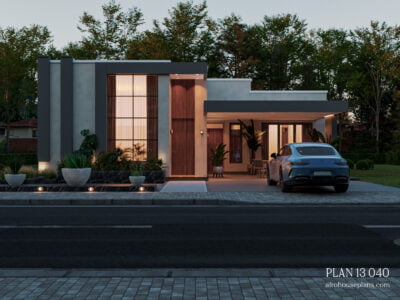 Find the best two-bedroom house plans with different styles in this collection. These small house plans provide you with low-cost options that are easy to build and maintain. Simple 2-bedroom house plans are popular for small families to live in. Usually of a single-story, these two-bedroom house plans make efficient use of plot space for comfortable residential living. Two-bedroom floor designs are also a good choice if you're looking to venture into real estate investment. They are affordable house designs and can yield sufficient returns. Two-bedroom houses can be occupied by families, working individuals, or even students.
This collection consists of the best floor plans for small house designs and comes in various sizes and specifications. You can go for a small bungalow house design with two bedrooms that give it a compact, solid look. There are also apartment house designs with two bedrooms available, as well as builder floor designs. Additionally, you can choose to have a traditional house design or go for a modern floor plan depending on the look you want. House front elevations would help give it a more striking appearance and make small house designs seem even more spacious. 2 bedroom house plans with 3D elevations are available here.
While designing these two-bedroom home plans, we keep the user in mind by making sure the designs make the best use of space.
Choose the right floor plan for your 2 bedroom house design, and watch your dream home come to life.
PREMIUM ACCOUNT
View floor plans & areas
View cost to build
1 year access
$49 Discount Coupon for any plan