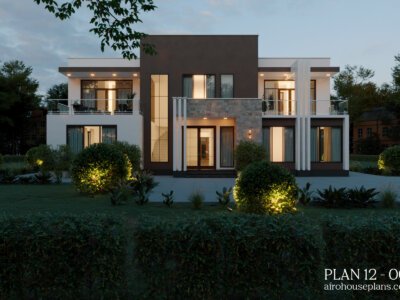 Find the best five-bedroom house plans in this collection. 5 bedroom homes provide ample space for large families to live together. For example, a family system where grown adults, their parents, and children live in the shared 5+ bedroom house. Choosing a 5 bedroom house plan gives you the flexibility to use the space in different ways, at your convenience. One room of the 5BHK house plan could be an office instead of a bedroom for work purposes.
These 5 bedroom house plans come in various styles and specifications, with two-story house plans and triple-story house designs available. These floor plans designs come in modern African style or traditional style and any of these 5 bedroom house plans can be adapted to your needs. This is a collection of the best house plans for family living, and are designed for optimal ventilation, space, and comfort.
Browse our 5 bedroom house plans today and find a beautiful home for you and your family.
PREMIUM ACCOUNT
View floor plans & areas
View cost to build
1 year access
$49 Discount Coupon for any plan