You may find yourself living in a small studio apartment with a tiny bedroom or even without a bedroom at all. There are plenty of bed alternatives that are perfect for small spaces that are just as comfortable and can serve a double purpose.
This multipurpose use is especially useful in small homes or studio apartments, where every square foot of available space is needed and put to good use.
The following are some of the greatest bed alternatives we've uncovered for you if you're looking to replace your standard bed with something new.
Types of Bed Alternatives
The various types of Bed alternatives are discussed in this article,
Air Mattress
Futon Mat
Murphy Bed
Loft Bed
Sofa Cum Bed
Trundle Bed
Thai Massage Mat
Hammock Bed
Hanging Bed
Sleeping Recliner
Here are the most common options, cheap and expensive, creative and simple, so you can make the right choice for your home and your budget.
Air Mattress
An air mattress is one of the most effective solutions to preserve valuable floor space while keeping the comfort of a good bed. In comparison to traditional beds, they're also incredibly affordable.
When not in use, the mattress can be easily deflated and stored, or even deflated halfway and put in a closet during the day.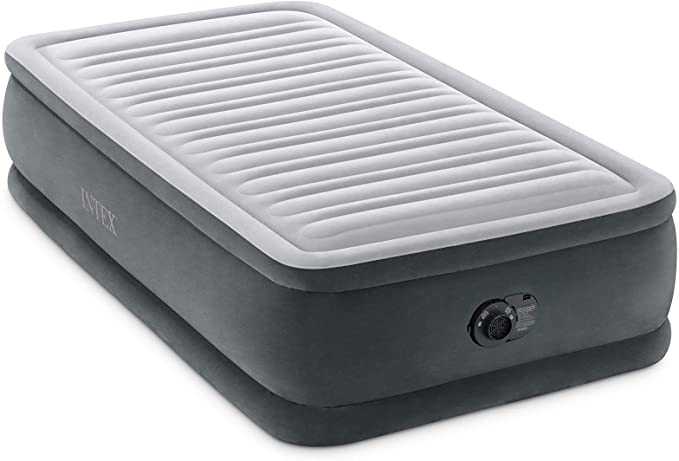 What's even better is that you can take the mattress on camping excursions, use it as a guest bed, transport it to your parent's place for the holidays, and so on.
If you have cats or other indoor pets, however, you should think twice about getting an air mattress because they can harm and deflate it. It's ideal to keep your sheets and comforter on top of it as a layer of protection.
In addition, if you have joint discomfort, the mattress may aggravate the condition because it loses air as you sleep on it.
However, aside from a few flaws, this is a wonderful bed solution for those on a budget or in need of temporary bedding. These days, they create some very decent ones. They come in conventional bed sizes, so you may acquire such types of bed sheets and bed coverings without having to think about it.
Futon Mat
Futon mats are a great way to sleep in a compact space. When not in use, the mats can be quickly rolled up and stored.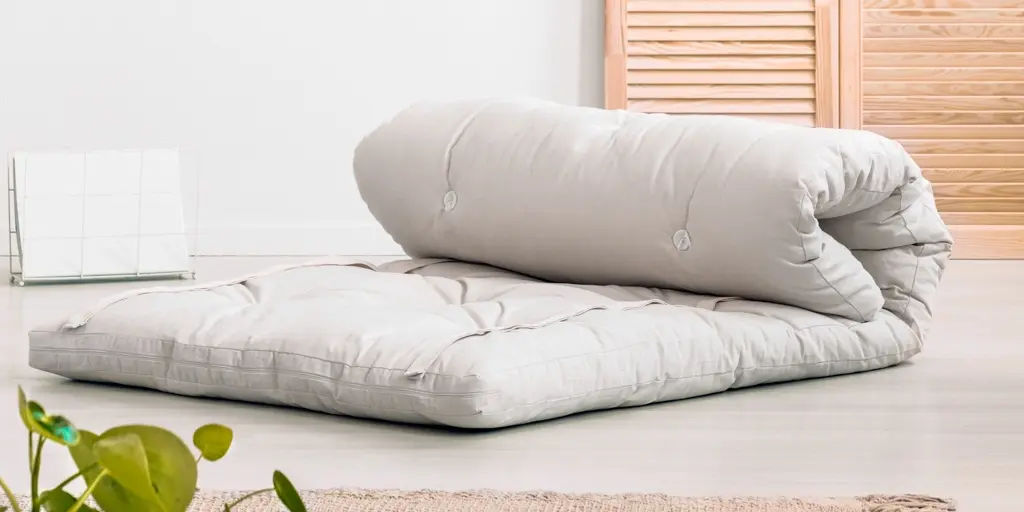 For people who prefer a firm mattress, the mattress of these types of futons must be spread out on a hard floor (a thin carpet is sufficient) and may even be more comfortable than a spring mattress.
If you're a hot sleeper, the earth functions as a heat sink, so you won't wake up from the heat stored beneath you, similar to some of these box spring options.
If you toss and turn a lot or are elderly, this is a great alternative to a standard bed because there's no risk of rolling off and falling.
However, if you have a damaged knee, getting in and out of the mattress on a daily basis can be problematic because it is on the floor level. These mattresses are exclusively recommended for those who need to save room or want to emulate the Japanese aesthetic.
Futon mats take a lot of upkeep and must be washed and aired frequently or they will begin to smell terrible. It will air out naturally if you roll it up to store it throughout the day, but you should clean it every now and then.
To make this process easier, you can find zipper bags that fit them (just toss them in the washing machine and dryer). To some extent, these can be compared to bed rolls or even sleeping bag alternatives.
Murphy Bed
A murphy bed, often known as a wall bed, is a cutting-edge bed solution. You receive the benefits of a regular bed without sacrificing valuable floor space.
The main feature is that it can fold down from inside a wall or even a huge cabinet during the day and then be folded back up into storage.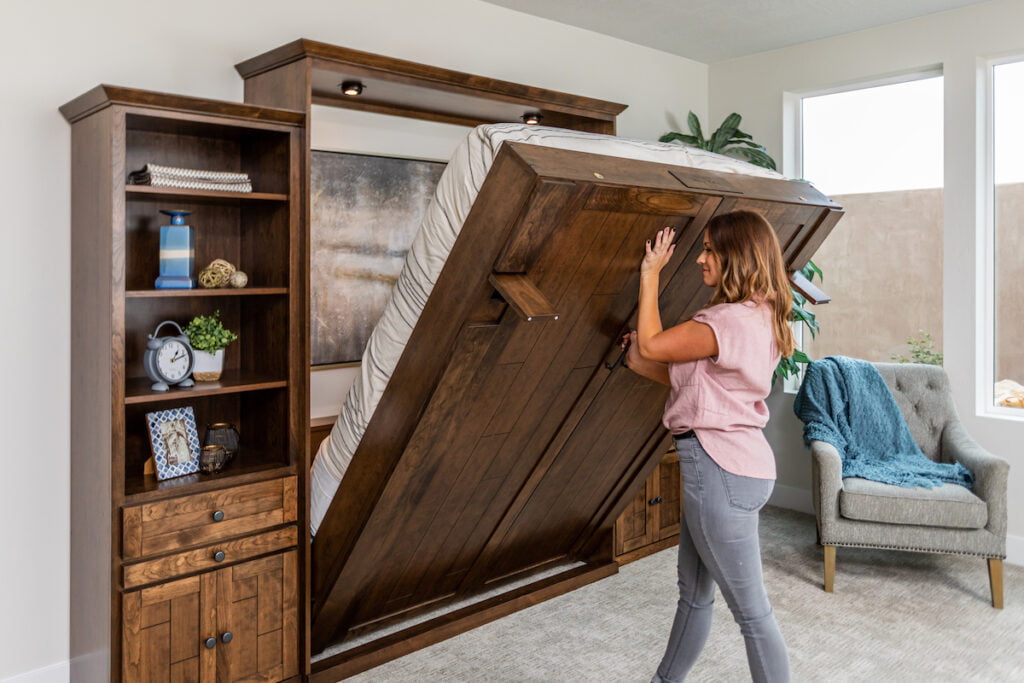 When you get up in the morning, the bed may be quickly rearranged to make more room for your everyday activities.
Murphy beds are reasonably priced, and you may assemble and install the bed yourself, but this can be difficult if you are not a handyman.
This is a terrific alternative for a tiny apartment or a crowded space in your home, and it doubles as a conversation starter. Everyone will be eager to try it.
What's more, it doesn't have any restrictions on the type of mattress you can use (unless, of course, a water bed).
Loft Bed
If you're familiar with bunk beds, you'll recognize that loft beds, like other bunk bed alternatives, feature a similar principle but without the bottom bunk. Because the bed is elevated, there is plenty of room on the floor for storage and other purposes. The issue with a loft bed is that it is not a practical solution for every household.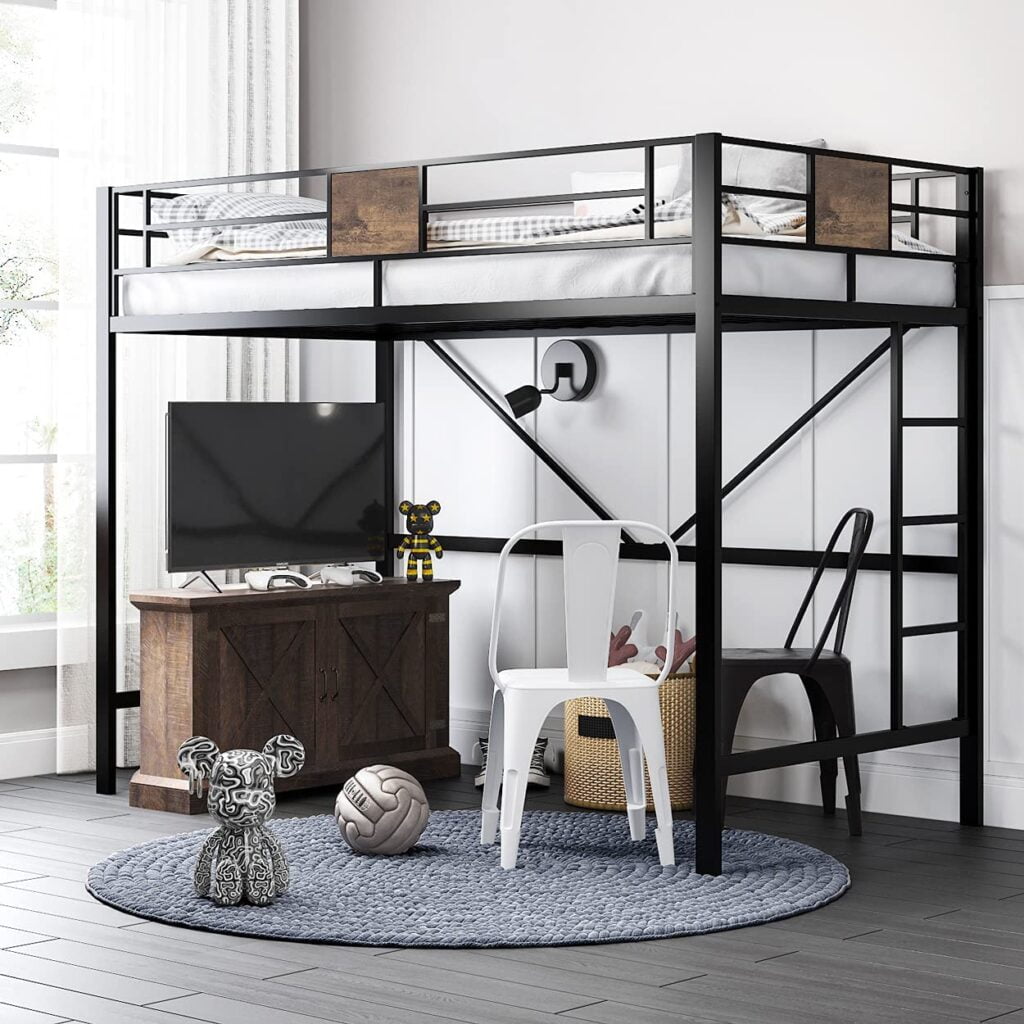 This is an excellent option for a college student because you can set up an office workstation beneath the loft to study. This was something I did myself, and I slipped a desktop computer underneath.
It was a relaxing environment where I could play games, research, and study. These are the most entertaining sorts of bed frames, as well as the most effective at saving space in your room.
Sofa Cum Bed
A pullout couch, often known as a sofa bed, is one of the most common and popular solutions to save space in a room. You're definitely curious about this. It's a "couch bed," meaning the mattress slides or flips out, similar to a murphy bed.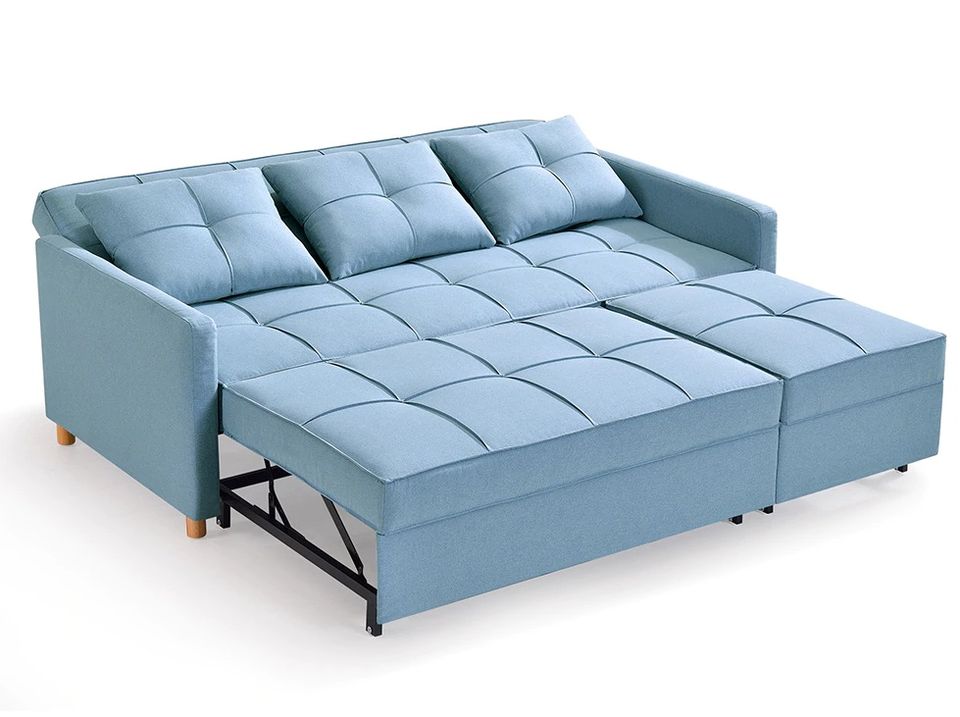 You can relax on the sofa during the day, perhaps watching television or reading a book. Simply roll out the sofa at night and retire to your bed for a restful night's sleep.
Even after pulling out the sofa, a section of the configuration can still be employed for seating or making the bed even larger.
This is a stylish method to decorate your home without taking up too much room. If you have a small apartment yet frequently host visitors, this is the appropriate bed option.
However, there is a possibility that the roll-out bed will be too soft and sink under pressure, as it will be impossible to roll it into a sofa if the material is too rigid. The fold-in beds do not have this issue, but the slide-out beds do.
Your back may be affected if you sleep on a flip-out couch bed frequently. If you don't add a futon on top, you can sometimes feel the support bars underneath you. The slide-out variants, once again, feature a flat surface underneath and don't require any assembly.
Trundle Bed
A trundle bed, often known as a drawer bed, is ideal for a child's room. It's a bed inside a bed. When you're ready to sleep, pull out the second bed from underneath, which is somewhat lower than the main bed. They even make ones that can be dragged out from beneath certain types of dressers.
This is the perfect bed for a room with kids or for a last-minute sleepover, especially if you have small children who shouldn't be going up to a bunk bed. If it were up to me, I'd throw a futon on the floor and order them to stop up!
Thai Massage Mat
Thai massage mats are designed specifically for Thai massages. They do, however, work well as an alternative to a futon. As long as the mats are placed on a hard floor, they can be very comfortable, and they may be preferable for people who have back problems.
These are also known as shiatsu mats. If you like a solid resting surface and a rollaway to store the mattress during the day, this is the mattress for you.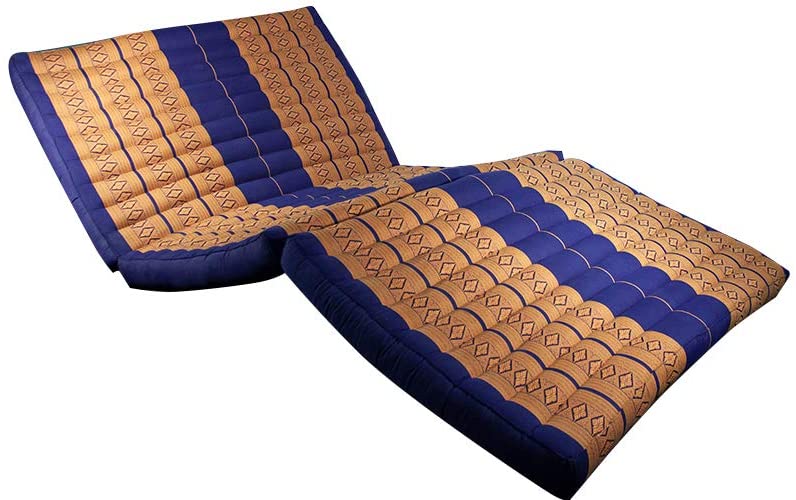 When not in use, Thai massage mats are typically little more than 3.5 inches thick and can be simply rolled away.
The mat's only drawback is that it forces you to get up from the floor or sit on it every time you wish to utilize the bed. If you have weak knees, this could be a difficult task.
To spice things up, throw in some Moroccan floor pillows. If you sleep on your side, they make fantastic pillows and even between-the-knee pillows, which will assist maintain your back in alignment and relieve pressure on your hips because you're on such a firm surface.
Hammock Bed
A hammock is commonly associated with being hung between two trees outside to relax in the sun. However, you can fasten it between two studs in your bedroom wall and get the same result. You may take it down from the hooks, fold it, and store it in the closet when you wake up.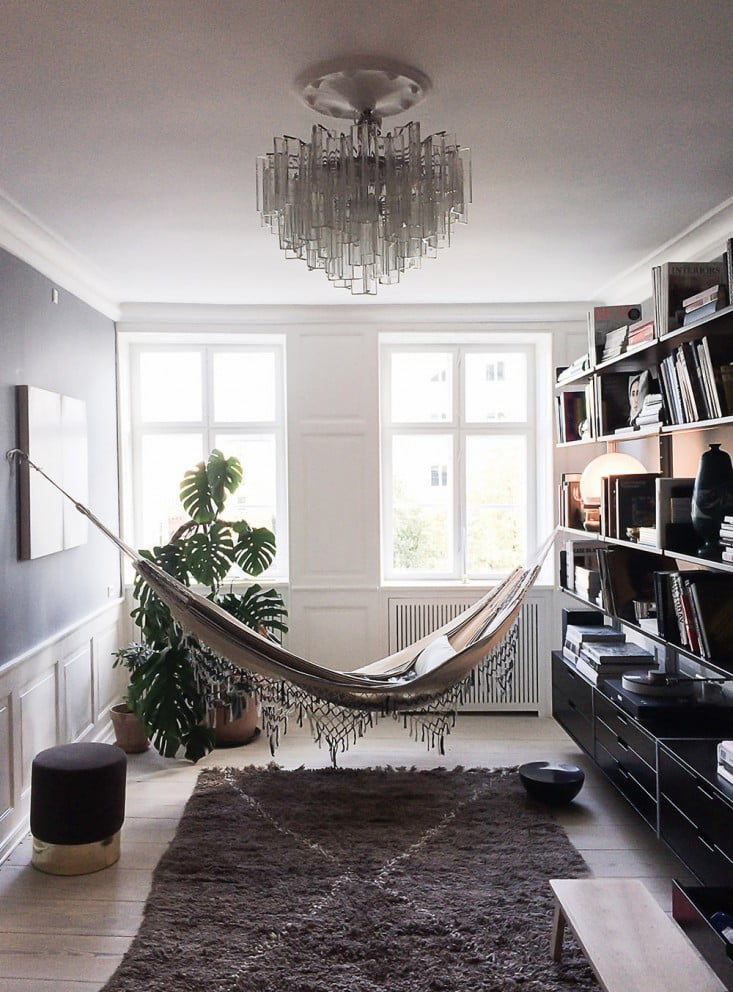 There are hammocks that are designed to be suspended from the ceiling or have their own structure. However, the frame type will not help you save any space.
One thing to keep in mind is that you will be sleeping with your back curved, which can be uncomfortable over time. If you sleep face down or on your sides, these aren't worth considering. It will not work for you.
Hanging Bed
This is a different take on the bunk bed/loft bed idea. It is constantly out of the way because it hangs totally from the ceiling and is located so high up, leaving plenty of floor space underneath.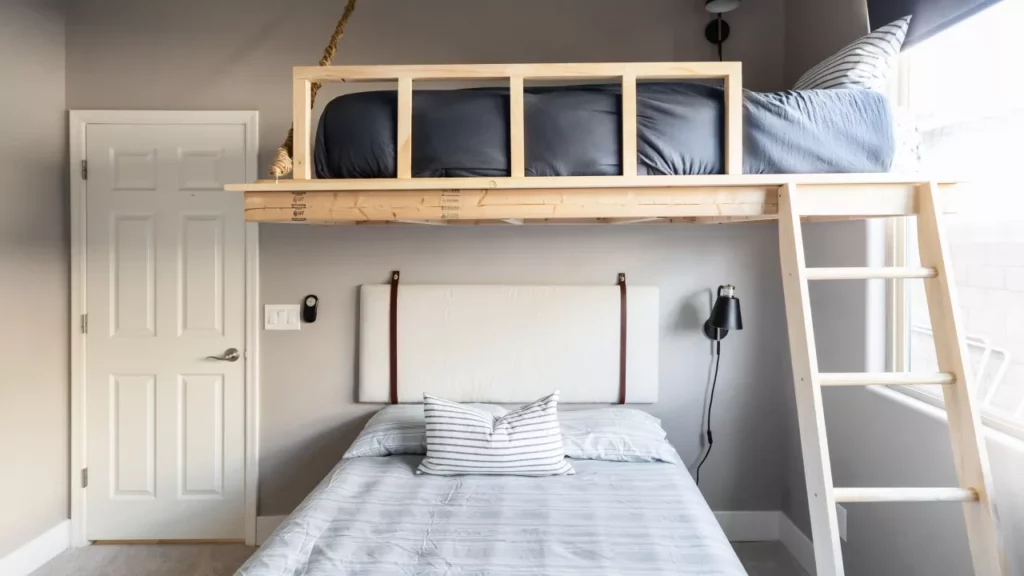 The only problem is that you'll need to make room for either a permanent staircase or a rope ladder (not recommended). At the very least, you won't have to consider other bed skirt options.
The majority of individuals who install them will do it near a wall so that the staircase can be against it. If you install these suspended beds appropriately, they are entirely safe, but if you don't, you may be wounded at any time in the future. Please have it installed by a professional.
Sleeping Recliner
These days, there are recliners that can tilt all the way back and are comfortable enough to sleep in. They don't lie flat but act like those beds where you can use a remote control to tilt your back upwards and even bend your legs.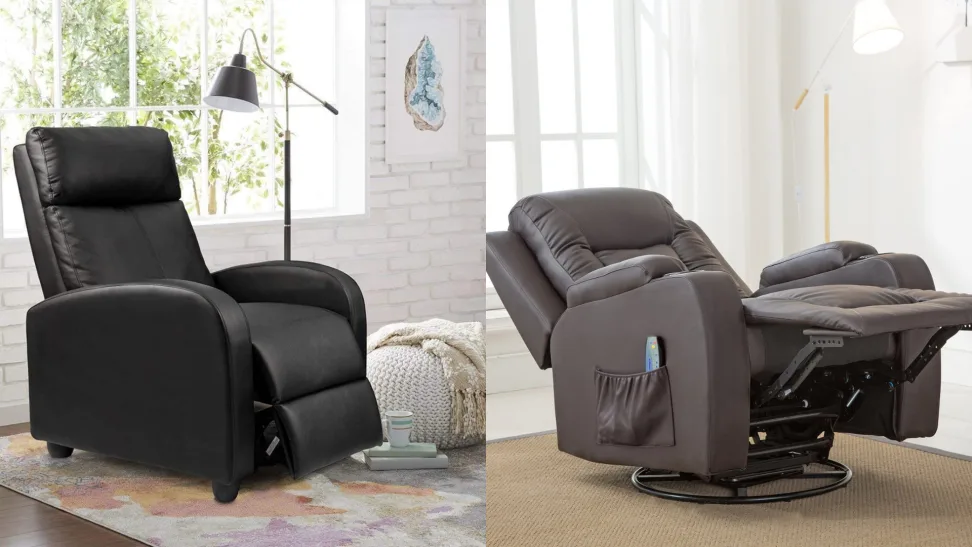 If you're going to buy a chair, I'd acquire one of these just to add more sleeping space for when you have a lot of visitors.
Every night, we all know males who fall asleep in front of the television. If that describes you, you should acquire one of these so you can kick all the way back when you start to feel sleepy.
FAQs:
What is a Trundle Beds?
This trundle bed, also known as a drawer bed, is typically used in children's bedrooms. Trundle beds are becoming a more common option in every home.
What exactly do you mean when you say "bed alternatives"?
Bed alternatives save space, are more comfortable and are simple to replace. Examine the various bed options and determine which type of bed will complement your preferences and bedroom.