Here are some of the important factors to consider when designing a new house ranging from any number of stories rooms and other factors.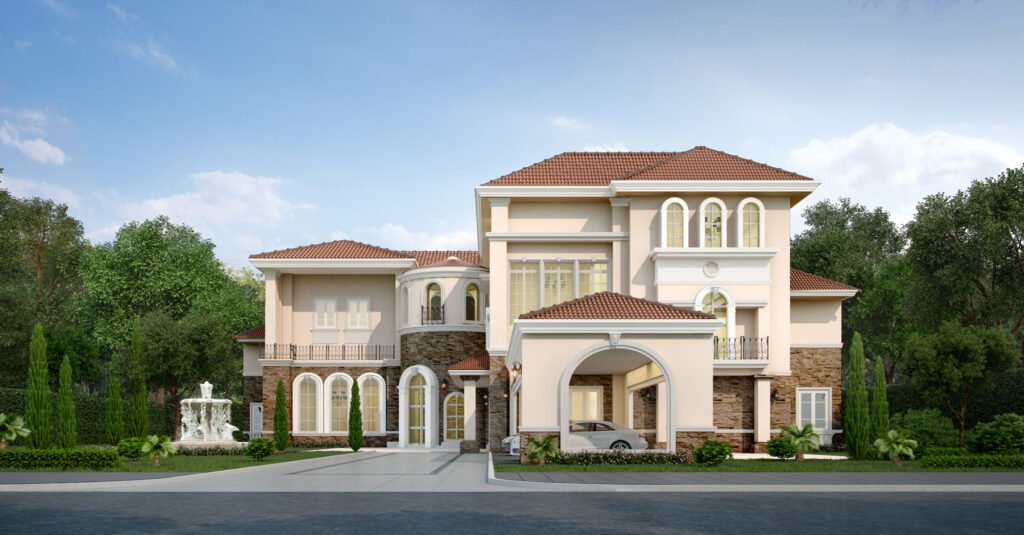 Make sure you design your house for your family
Unless you want to pay for some extensive renovations, later on, make sure you analyze the way you and your family live and ensure this is reflected in the design of the home. For example, your kids are probably going to want to play outside, so locate your outdoor play area next to the kitchen where you can see them. You might also want to not have any stairs, and a fence around the property to begin with. In this comprehensive article, we present to you factors to consider when designing a new house.
Size
Small or large plans? As previously said, this selection is based on your financial situation. You'll need an architect for this, as well as some prepared responses. What is the maximum number of floors you desire in your home? Would you like some areas with double-height ceilings? Some communities have minimum house size requirements. Your architect will investigate whether there are any local restrictions on what you can construct.
Make sure you have the right location
Of course, you must first acquire a site before deciding on the type of construction to construct it.
Have you ever looked at the location more closely? Have you determined if this is the ideal location for your dream home? Examine the location to ensure that it is both flat and affordable. A plot on a sloped terrain can be cheaper to buy but expensive to build because of the landscaping needed before starting construction. The soil conditions have an impact on the house's foundation. You may have to spend extra on grading and developing the site if the soil quality is poor. This is both expensive and energy-intensive.
So, take your time inspecting the land, and don't buy it just because it's cheap.
Understand your own unique needs
In order for your home to feel like home, you'll need to make a list of ideas and decide on critical must-haves for any new project. Communicate your thoughts and gain comments if you're working with an architect. The size of the house is crucial because you'll need to account for the number of people that will be living there. Everyone desires and requires their own personal space. Get advice from the architect to avoid costly blunders like having too many rooms, which increases the expense of maintaining and building the property. Add that executive study if you work from home to save money on company expenses. Also, put it somewhere peaceful where you can develop new ideas and techniques.
Furniture
It's critical to get the right furniture size for your living room. It's critical to think about this early on so that you have enough room for your furniture. You can use the dimensions of your existing furniture.
If you want to move into your dream home with the same furnishings you had before, it must fit. To fit into your floor design, furniture should be well-arranged. There should be no superfluous furniture that obstructs traffic flow. The exact number required. To enable seamless movement, place them with at least 90 centimeters between them.
Open floor plan
You can choose open living spaces instead of a well-defined floor plan. The open layout is the concept of having a single large place to utilize as a home. The furniture is set up in a way that reflects the intended use. Open living spaces facilitate supervision and foster a positive relationship between children and their parents. An open floor concept connects all of the rooms. It brings more light into the house, making a small home appear larger. Although you will lose privacy and experience increased noise impacts, you will save money since you will need fewer materials.
Future costs and durability
It is not advised to design a home with architectural characteristics that will increase your future costs, no matter how appealing they may be. On paper, it will appear excellent, but the maintenance costs will rise. Make sure your structure is long-lasting. Make use of low-maintenance, long-lasting materials. Don't be swayed by the cost of materials into buying something that won't last and will require repeated renovations. Consider your location's climate and select materials that are weather-resistant. Build a long-lasting structure rather than a temporary structure.
Involve experts
Don't assume you know everything. It's great that you've decided to design your own future home.
The architect will benefit from your planning because you have made it easier for them to see what you want. However, be prepared for corrections, and don't think you know everything. A few things will need to be changed to make them standard. So, pay attention to your architects' ideas and corrections. Even when the work is completed, expect mistakes and errors, and be prepared to correct them. It's possible that this is where the extra costs you factored into your budget start to make sense.
Lighting and automation
The right lighting installations are essential for adding a distinctive touch and warmth to your house.
The house's effectively illuminated elements bring out the beauty and charm of the architecture, providing a desirable ambiance. In the evening, lighting creates a distinctive mood in a garden, allowing you to admire and enjoy the landscaping. Lighted driveways and garages are essential for keeping your house safe. Smart home features should be considered when designing a modern home. By controlling the central heating system, air conditioning, floor heating components, sprinklers, blinds, and even lighting and alarm systems, modern building management systems help to optimize energy use. These incredible technology breakthroughs have enabled individuals to remotely manage their houses, providing a sense of increased protection and comfort — even when they are away. Photovoltaics can help save the environment and cut or eliminate your utility bills by providing energy efficiency and a degree of independence from the power grid. Despite the fact that this technology demands an initial investment, it will pay off handsomely.
Cater for hidden costs
It's time to put the rubber on the road now that you've got your land, and house plans, recruited the correct people, and are ready to start building a house. But first, put aside a reserve account. Things can move quickly during home construction, just as they might during modifying an existing home. Begin by supplying all necessary resources, such as a steady supply of water and electricity. Cost overruns are typically caused by erroneous project estimates, severe design flaws, unplanned change orders, inadequate site management, and the failure to hire the right personnel. When conserving money, keep in mind that your needs may vary during construction, so budget accordingly. Your architect and contractor should make certain that everyone is using the most recent blueprints and that changes are made in real time.